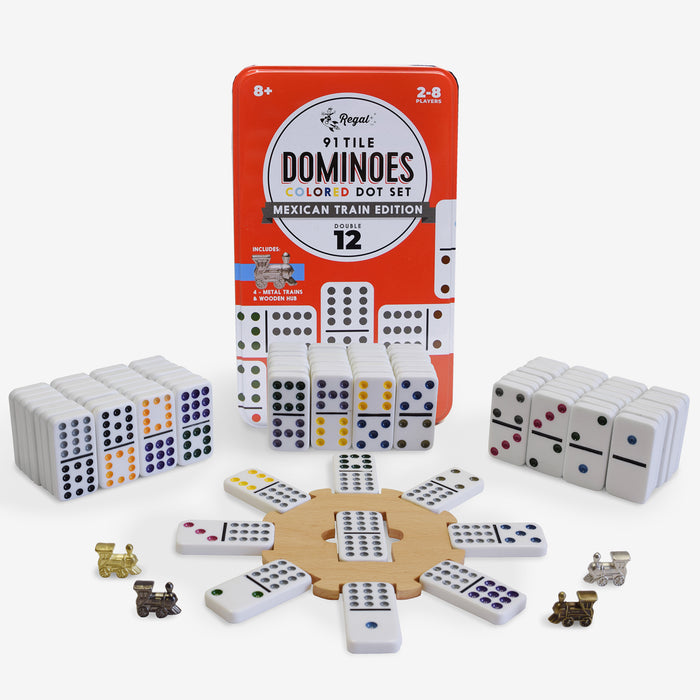 Regal Games Double 12 Mexican Train Dominoes (with Wooden Hub and 8 Trains)
INCLUDES
Our double Mexican Train Dominoes set comes with everything you need to have a good time with family and friends, including 91 Classic Double Tiles, 4 Metal Trains, and a Wooden Hub in a Reusable Tin Case to make sure you have enough to play with up to 2-8 Players.
DESCRIPTION
The dominoes Mexican Train game set features durable and sturdy tiles with indents and long lasting colorful ink dots to provide you with a lifetime of use. The large dots feature different bright colors to make sure they are easy to distinguish for kids. 
Our double 12 dominoes come neatly packed in a sturdy tin case making them easy to store when at home or on the go. We also include a wooden docking station to help you keep the tiles organized and in place when playing no matter how hectic it gets.
CLASSIC & TIMELESS GAME
Mexican Train dominoes with trains are a classic game that has entertained both children and adults for years. It's the perfect fit for family game nights, traveling, sleepovers, holidays, gatherings, parties, and anytime you want a game that's both engaging and fun.